☝️At Tutorpeers, we take the verification of our users very seriously. We want to ensure that all Tutors on our platform meet the necessary qualifications and standards and that students can have a safe and productive learning experience.

✅To become a verified tutor on Tutorpeers, there are a few things you need to keep in mind while creating your account:
Full name and last name: We will verify your full name and last name to ensure that it does not contain profanity or inappropriate content. Please make sure to enter your legal name in the appropriate fields.


Profile picture: We will check your profile picture to ensure it is suitable and does not contain inappropriate imagery. Please use a clear and professional image of yourself. Ensure to use a recent photo of yourself that accurately reflects your current appearance.
Example:


"About" section: Please take the time to write a thoughtful and informative description of your qualifications, experience, and teaching style, emphasizing how you can assist learners. Specify your areas of expertise within your subject - for instance, if you can help with writing or speaking for 'English Language', etc. Avoid sharing personal contact information.
Example:

"Hey there! I'm Alex, and I'm currently a junior at Standford University, where I'm majoring in Computer Science. I've been tutoring high school and college students for 3 years now. I've got a solid GPA of 3.9 and completed specialized training in tutoring techniques.

I've had the pleasure of helping multiple students ace their AP exams and even guided a few in winning coding competitions.

As for my teaching style, I aim to blend interactive and hands-on approaches. I use real-world examples to illustrate complex theories, making them easier to grasp.

I specialize in Python programming, data structures, and algorithms. Whether you're struggling with basic syntax or complex problem-solving, I've got you covered."



Upload an intro video: Please upload a video that showcases your teaching style and personality in a positive and professional light. If your "About" section is already written per our recommendations, you can use it as a script for your intro video.


Add accolades and achievements: Please upload clear images of your accolades, like awards, certificates, or high test scores, to boost your profile's trust factor. Keep in mind that each image must be under 7MB. These documents are key in showing off your hard-earned skills and help students feel extra sure about picking you as their tutor.



Connect Stripe: Connecting payouts is not mandatory. You can still provide sessions for free if you like. However, we recommend you connect a Stripe account in settings.
Which countries are supported for Tutor payouts?
Ongoing monitoring: We will continue to monitor and verify user profiles throughout the day to ensure they meet the necessary qualifications and standards. It is to ensure that the platform remains a safe and productive learning environment for all users.
Following these guidelines will increase your chances of being successfully verified as a tutor on Tutorpeers.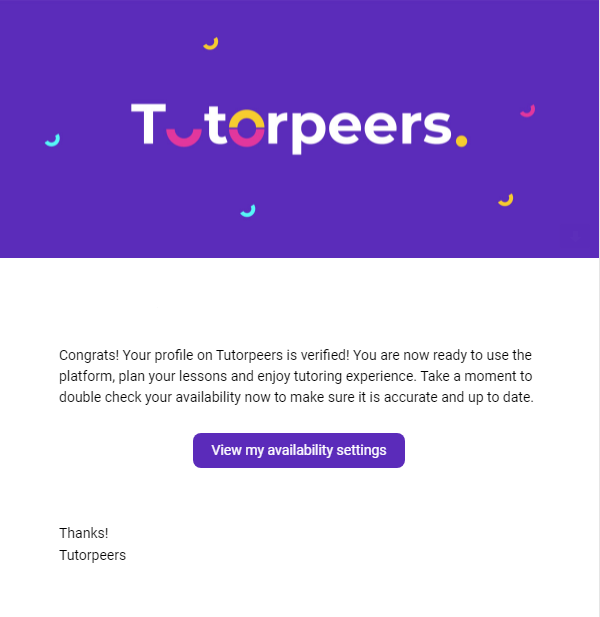 😊Our support team is available to answer any questions and guide you through the verification process!
Thank you for choosing Tutorpeers as your tutoring platform, and we look forward to helping you achieve your academic goals🫡